If you are recording audio during the meetings, here are the steps to put the audio into the Meeting Repository
Written by Dustin Overbeck
You can use pretty much any device to record audio during a board meeting. It could be your phone, a portable digital audio recorder or through some other device. In any case, the audio file that the device records in will typically be an mp3 file.
Where the Audio Files are Shown
The Meeting Repository is where the link to the audio files will go. This way your residents will have a "one-stop-shop" for finding a meeting's Agenda, Agenda Packet, Minutes and any Audio recordings or even video.
First Upload your Audio Files to SoundCloud
Instead of reinventing the wheel and posting all the audio files directly onto your web hosting server, we use an existing service that is built to manage, share and serve audio files: SoundCloud.
Likewise for video, the best and most-widely used service for managing, sharing and serving videos is YouTube.
Below is an example of how your page on Soundcloud could look using an example from the Village of Kronenwetter. This makes it easy for a resident to skip and scroll through an audio file in order to listen to the parts that are relevant to them.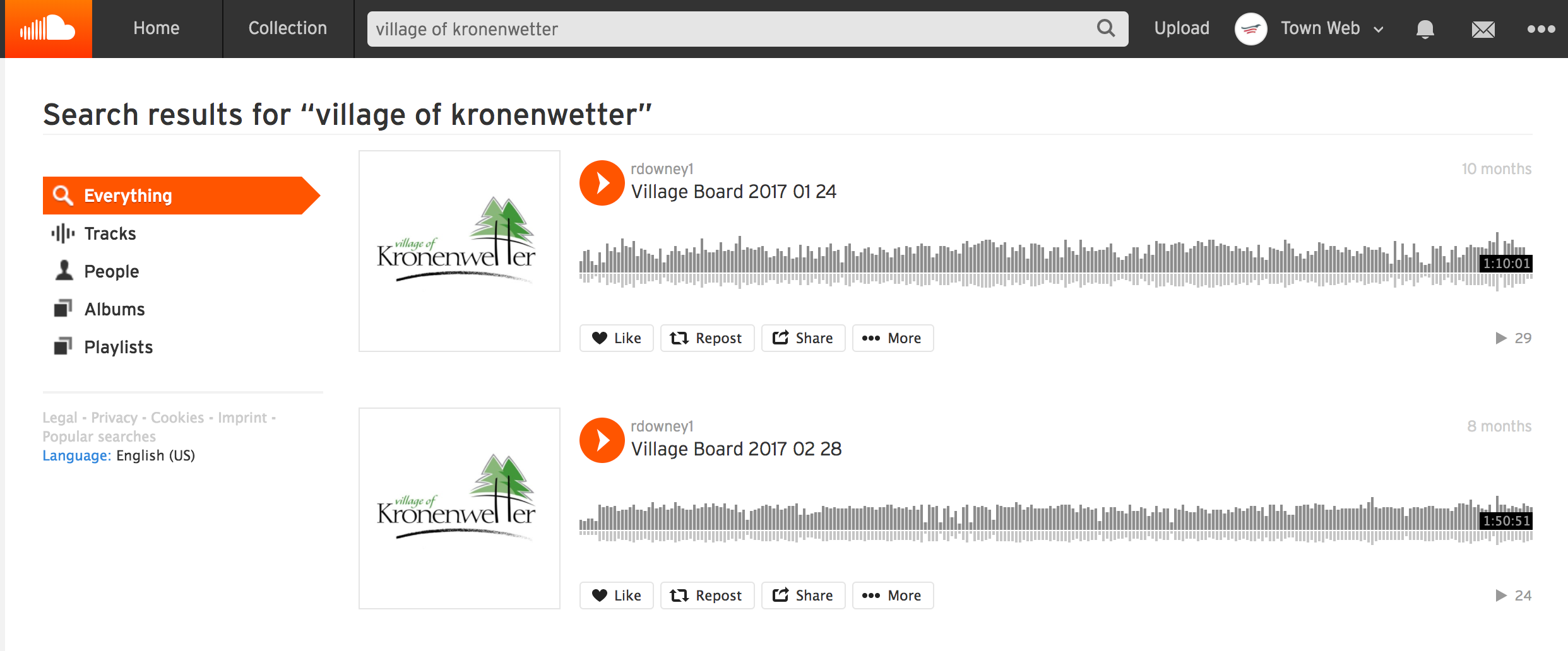 You can create a free Soundcloud account and upload your audio files there very easily. Alternatively if you do not wish to create a Soundcloud account, we can post your audio file to the Town Web Soundcloud account. All you need to do is pass your file to us via email. And if the mp3 file is quite large, you can share it via Dropbox.
If you do not have a Dropbox account, we can grant you access to upload the file to our Dropbox account, and then we will upload your Audio file and then post it to your site for you.
Describe your files
Give the file a descriptive name, such as the following:
Name of your Municipality
Name of the Board of Committee (e.g. Regular Town Board Meeting)
Include the Date in which the meeting took place
Add any tags to help classify the audio file, such as #VB for "Village Board" and the Date of the Meeting.

Copy and Paste the Soundcloud URL into the Meeting Repository
It couldn't be any easier! Once your file is uploaded to a service like Soundcloud, just copy the URL of it. From within the Meeting Repository there is a field to paste in the URL and click the Save button